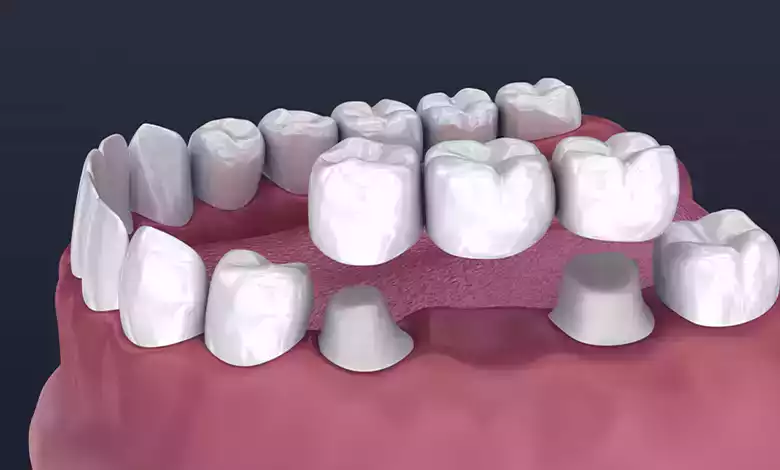 Dental crowns are a popular dental treatment used to restore damaged teeth. They are a cap placed over a damaged or decayed tooth, providing a protective layer that restores its functionality and appearance. Dental crowns are commonly used in Turkey to treat various dental problems. Many dental clinics in Turkey specialize in providing this treatment.
Vera Smile offers the best dental treatments, including dental crowns. It is staffed by a team of highly qualified and experienced dentists. These dentists use the latest dental technology and techniques to provide patients with the best possible dental care, ensuring they receive the highest quality treatment.
Dental crowns in Turkey are an affordable option for those seeking dental treatment, with significantly lower prices than those in many other countries. Patients who undergo dental treatment in Turkey can save significant money while still receiving high-quality care. Many dental clinics in Turkey also offer packages that include accommodation and travel arrangements, making it even more convenient for patients to receive treatment.

When choosing a dental clinic for dental crowns in Turkey, it is essential to research and choose a clinic with a good reputation and a track record of providing high-quality care. Vera Smile is one such clinic with a reputation for excellence in dental care, earning it a loyal following of patients worldwide.
More Smiles, Less Frowns, with Dental Crowns
Dental crowns in Turkey are the solution to your dental problems. The dental crown cost in Turkey is significantly cheaper than the same procedure in other parts of the world, so you don't need to break the bank due to your broken or misshapen teeth. We are one of Turkey's most versatile healthcare services, offering many dental services at Vera Smile and other procedures, such as high-quality hair transplants.
Dental crowns in Turkey are affordable, but we assure you they will only look or feel cheap once you have the procedure. Dental crowns in Istanbul are the cost-effective option, with the lowest prices globally, with all medical procedures at our state-of-the-art hospital.
Getting your dental crowns in Istanbul means you can explore one of the most fantastic medical tourist destinations and enjoy the local culture while receiving a top-quality procedure from some of the best-in-class surgeons in the world at a highly modest rate.


Dental Crowns Advantages
Along with the dental crown cost in Turkey being exceptionally reasonable, there are also comfort aspects and medical benefits. Our cheap dental crowns in Turkey will enhance your smile with huge aesthetic advantages. Discoloration, damaged teeth, and a distorted smile needn't be a problem. The color of the dental crowns in Istanbul will perfectly match the tone of your teeth, rejuvenating your confidence and allowing you to shine with your new smile and your new lease of newfound self-belief. A dental crown is an excellent form of protection, as it will encase the chipped tooth, protecting it from further decay and breaking away. The dental crown cost is even more worthwhile, as it can keep the weak tooth together if parts of it are cracked.
Why Choose Vera Smile For Dental Crowns?
✓ State-of-the-art facilities
✓ Qualified and experienced medical team
✓ Accommodation and onward travel included
✓ Expert aftercare and patient care
✓ High-quality standards of service
✓ Permanent, natural-looking results
✓ Trusted destination for medical tourists✓ Affordable procedure costs
Am I Eligible for Dental Crowns?
1 – Tooth Condition
Crowning may be impossible if your tooth has previously sustained extensive damage. However, other options are available here at Vera Smile. By contacting us, we can happily advise you, directing you toward your ideal choice. The main reason for needing dental crowns in Turkey is worn-out or decayed teeth. If the root is still intact, this procedure will be possible, as this is where your cheap dental crown from Turkey will be fitted upon.
2 – Dental Issue
You may want to cover a tooth with a large filling, where not much of the tooth remains, covering misshapen, discolored, or undesirable teeth. Other beneficial applications are covering a tooth that has received a root canal and even holding a dental bridge. Dental crowns in Turkey will help maintain structural integrity, holding it together while protecting cavity-ridden teeth. Able to act as a preserver for more brittle parts of your teeth, it will protect the affected structure. You will be thoroughly assessed during a consultation for suitability for dental crowns.
The Process of Dental Crowns in Turkey
Dental crowns in Turkey are higher in quality than you would expect anywhere else at a much more attractive price. These cheap dental crowns in Turkey are a form of dental restoration treatment designed specifically to your requirements.
First Session:
On your first visit to our clinic for your dental crowns in Istanbul, our expert dentist will run tests to evaluate the affected tooth and decide on the best option. The root of your tooth will be examined, followed by multiple X-Rays of your teeth so the condition of your tooth can be analyzed.
If your root is affected or decaying, you might undergo a root canal treatment before the dental crown procedure can begin. The design stage will start following this assessment for dental crowns in Turkey.
Once the process begins, local anesthetic is injected just before the target tooth is filed down from the sides nearest the gum, allowing for a niche the crown will sit upon. If the remaining tooth is unsuitable, the material collected from the filing will be repurposed to create an anchor for the crown.
Once the reforming of the tooth is complete, the mold is created for your dental crowns in Turkey. Digital scanning can create an impression of the gap. Depending on your requirements, paste or putty can be used to obtain the outline of the crown manually.
The scans and design propositions are sent to an offsite laboratory to manufacture the desired crowns. This should take five work days until the crown returns to our facility. Crowns made of acrylic will be applied to preserve the prepared tooth as a temporary alternative.
Second Session:
During the second visit, the dentist will remove the temporary crown. The permanent crown is inspected and tested in terms of fitting and color. If everything is matched according to plan, the permanent crown is cemented. From here, you can enjoy your brand-new, beautiful dental crown.
1 – Before the Treatment
Enjoy a free analysis to ensure dental crowns are suitable for your needs.
Free Virtual Consultation
A free, bespoke consultation to ensure you have the best results from one of our expert consultants.
Our team will look after you from day 1 and are available 24/7
2 – During the Treatment
We can help to arrange VIP transport to and from the airport, as well as to our clinic for your treatment.
We will assist with arranging accommodation for your stay. Hence, you feel safe and comfortable for the duration of your trip.
We offer translation services to assist you during your trip. We speak your language!
We will provide you with all the medication and care you require as part of your journey.
3 – After the Treatment
We offer regular checkups with our expert team to ensure that your cosmetic procedure is healing correctly.
We believe in value and quality over quantity, so we offer a guarantee on our treatments.
We will provide consistent advice post-procedure on additional treatments which may assist with your long-term results.
Types of Dental Crowns in Turkey
The type of dental crowns you receive in Turkey will depend on your requirements, condition, and severity of your need for a dental crown here in Istanbul. See our complete list of dental crowns from Turkey that we have to offer.
Temporary Dental Crowns
A temporary dental crown is the only option Vera Smile offers that is made on-site at our state-of-the-art hospital. Usually, the materials this will consist of is acrylic. Installing one of these dental crowns in Turkey is a semi-permanent solution until the finished crown has been manufactured.
Zirconium, EMAX, Porcelain or Ceramic Crowns
Turkey's E-max, porcelain or ceramic dental crowns are considered the most durable and hardwearing dental implants. If you have a metal allergy, these are also highly beneficial due to their non-reactive properties, making them suitable.
The highest quality products which applications have been consistently satisfactory in are the zirconium dental crowns. It is aesthetic and robust enough to be used in front and rear teeth. The systems improve the quality of life. We use Girbach zirconium, which is the top quality German brand.
These can be applied to the front or back teeth, allowing you to use the same crown color and material on any or all of your teeth. These dental crowns from Turkey will provide the best natural color match compared to any other crown type.
Dental Crowns in Turkey – FAQs
What's The Difference Between a Dental Crown and A Veneer?
Dental crowns in Turkey are different from veneer in many ways. A Veneer is a custom-designed, prosthetic life-like shell covering your teeth to create that Hollywood smile. They are regularly used to deal with minor aesthetic issues. In contrast, dental crowns in Turkey may be necessary when your tooth has endured significant damage, decay or has broken severely.
Will I Be Able to Feel My Dental Crown?
As you might expect, it may feel unusual or unfamiliar after the crown is initially fitted, but this is temporary. As time passes, a well-fitted dental crown will have adequately bonded to your tooth, adjusting to your mouth. It will eventually feel just as natural as any tooth.
How long do dental veneers and dental crowns last?
The average life span of dental veneers can peak around 5-10 years with proper care. The cap-like structures are not inherently destructible and must be attended to maintain their composition. Dental crowns have a lifespan of 5-15 years. Again, good oral hygiene practices and avoiding using teeth as tools can extend the lifespan of crowns or veneers to the threshold.
What should I look for when booking dental crowns in Turkey?
We appreciate that finding trusted dental crowns in Turkey; undertaking thorough research into the healthcare provider to ensure they maintain safety, hygiene, and industry standards will ensure you are in safe hands. At Vera Smile, we take quality standards very seriously to provide the best dental crowns in Istanbul. Our hospital passes the International Certification Audit and holds an ISO 10002 Customer Satisfaction Management System certificate.